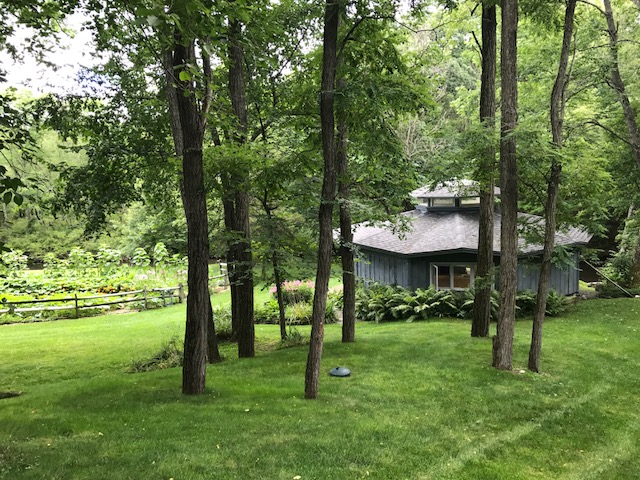 The Art of Playful Compassion
Summer Camp for Grown-Ups Who Want to Heal Through Love
Begin my ducking out of work a little early and relaxing on one of the most beautiful train rides in the county to the town of Hudson (about 2 hours on Amtrak). Our retreat center, Pumpkin Hollow, is about 20 minutes by cab from Hudson. Arrive in time for a garden fresh dinner.
The retreat will alternate between structured practice and learning and time to unwind.
OK, But what's it going to be like? Fun, relaxing, and insightful! This is healing at its best: in nature, with active learning, introspective, and good company. Here's a sneak peek.
Friday : 4:00-6:00 p.m. — arrive and settle In. 6:00 p.m. dinner. 8:00 p.m. gentle stretching and meditation. 9:00 p.m. bon fire, hang out, or quiet time, if you prefer.
Saturday is about unwinding and exploring Playful Compassion. 8:00 a.m. breakfast. 10:00 a.m. yoga and compassion meditation. 12:00 lunch. 1:00-4:00 p.m. break. 4:00 p.m. Principles of Playful Compassion. 6:00 p.m. dinner. 8:00 p.m. compassion meditation
Sunday: 8:00 a.m. breakfast. 10 a.m. yoga, compassion meditation, and closing. 12:00 p.m. lunch. 2:00 p.m. depart.
In between sessions you are free to hike, swim, nap, help in the garden, make new friends, journal — whatever your heart desires.
This retreat is appropriate for beginner and experienced meditators. No prior yoga experience is required.
Getting to and from Hudson
Friday night: dinner is at 6pm. The 3:15 Amtrak train will get you into Hudson at 5:15. You can catch a cab with other participants to the center in Claverack (20 min car ride from the train station). Also, feel free to arrive earlier too and explore Hudson or settle in early at the retreat center.
Sunday: We'll depart the center after lunch, around 1:45 p.m. There are 2:30 and 4:30 trains out of Hudson.
Please note: Amtrak ticket prices are lower in advance, and popular train times often sell out.
Cost & Accommodations & Food
Cost: $575.
What's Included:
• Shared accommodations for 2 nights
• All meals - prepared fresh from the summer garden!
• 5 yoga and meditation classes
• Full access to 130 acres of trails, swimming holes, a maze, a waterfall, fire pit, a forrest meditation hut, benches, hammocks . . . this place is heaven.
Accommodations: Accommodations are 2 twin beds with a shared bath. Camping is available at a decreased rate.
Think acres and acres of amazing, beautiful, park-like grounds with waterfalls, a 1920's stone swimming pond, and trails. Pumpkin Hollow has cabins scattered throughout the property plus rooms in a large, and charming farm house. Accommodations are basic and very comfortable. It has a very 1950's camp vibe, with a HUGE barn plus some lovely new buildings for yoga. The best part is the grounds. They are truly special.
Food: A big buffet fresh from the garden. Vegetarian. Filling. Delicious. Includes gluten free options.